How To Make A Million Dollars A Year With Online Course Creation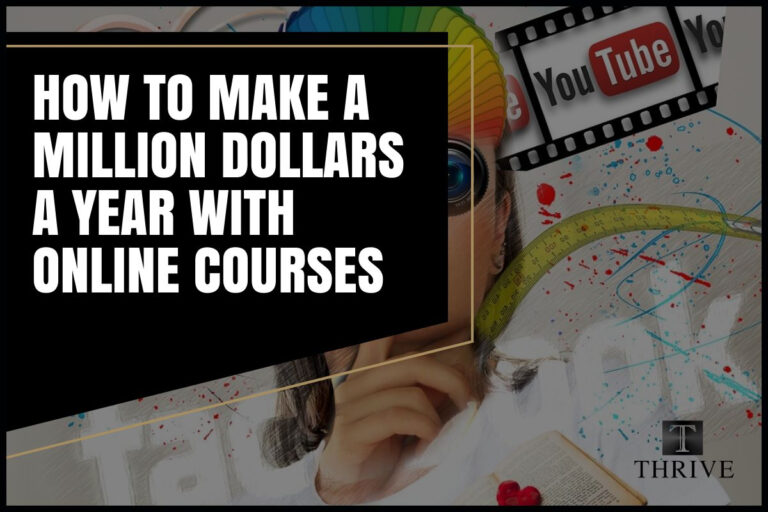 Have you ever felt like you were being pressured to charge more for your online course creation low-ticket programs? 
It seems like everyone these days is pushing high-ticket programs as the only way to go. However, there is a secret formula that not many people talk about, and it could help you make a million dollars a year.
This formula is one of the tactics that have encouraged my clients to utilize and I have done the same. I learned it from a mastermind group that I am part of, where Brendon Burchard shared how he made a million dollars in one year. This tactic alone could be worth a million dollars, and I want to share it with you today.
Where To Start With Creating Online Courses
Step 1 : Start a 3-part webinar series teaching something. Charge $97 for live access and get 200 customers to buy it each month. You will put a landing page up and sell the live teaching. You can sell it with a launch on social media, you can sell it to your list. The goal will be to eventually get 200 people to attend. But start out just make sure it sells.
Putting a landing page up and offering it as a live workshop ensures that you are not wasting your time creating something that nobody wants. It is a way to make sure that your product or service sells before you invest hours into it. So if you offer a live workshop every month it becomes an easy way to create what your ideal clients will buy.
You can also do a "launch" online which means instead of a webinar to sell your program you do a challenge on your social media and pay to promote your videos for the challenge. People join in for FREE on your social media and then at the end you pitch your workshop.
Step 2: Turn that live course into an online course and sell it for $365 (or more if you want). Get 100 people to buy it a month. Basically you will add more value to the course, downloads and worksheets then raise the price to $365. You already know it converts because you didn't create it if people didn't buy it first.
Then you can sell it doing a launch, to your list and so on. Eventually you will get enough courses where you could potentially promote one each month. You can also put one on discount and offer it as a one time offer or trip wire for your ads (so your ads pay for themselves).
Turning Your Online Courses Into A Membership
Step 3: Start a membership program charging $29 (or more) a month offering a new course every month. Get 1,000 people to buy every month. As you continue to do the webinar series for $97 you will get new courses every month that you know people want. Then you will turn these into your membership program.
You can do a lot with membership programs. I added mine on to package I offer where I do custom marketing plans, add Fractional CMO support and the membership program for training teams or individuals. I also offer it once a year right now as a program sold by itself.

Private Coaching To Supplement Your Income
Step 4: Offer private coaching for $1,000 a month and get 15 clients a month.
For many service based professionals this may be your core offer and you may choose to flip things around and have the courses supplement your income, but the we are simply laying out the numbers here so you can make the best decision for your business.


Clearly you could charge more for your coaching but these numbers I am providing you with are how you will hit one million a year. So you can increase your price or increase your clients. When it comes to social media and growing your marketing online eventually numbers are easy which allows you to offer lower prices.


Once you have this built you will have at least 12 courses and a solid membership that can last a full year. You can have people pay per month or for the full year. It is a great way to get some recurring revenue into your business.


In conclusion, low-ticket programs can be just as profitable as high-ticket ones. The key is to have a solid strategy in place that helps you validate your offering, create value for your customers, and build a loyal following. By following this formula, you could be making a million dollars a year with low-ticket programs.